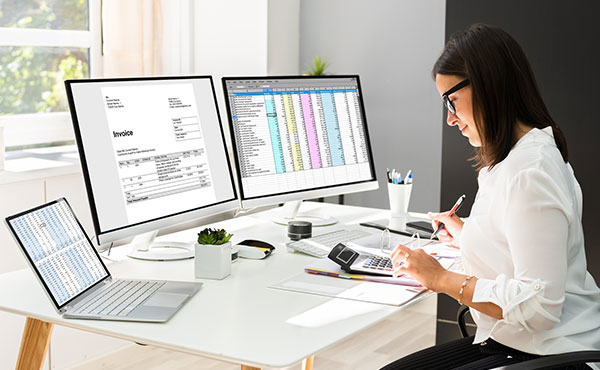 Program Overview
The Berkeley College Medical Billing Training program introduces students to the growing industry of the medical billing field. Professionals in the medical billing field play an essential role in the administrative portion of patient care. This program instructs students on how to understand and use the International Classification of Diseases and the Current Procedural Terminology and Healthcare Common Procedure Coding System to assign accurate medical codes for diagnosis, procedures, and other services provided by physicians and other healthcare practitioners. Students also learn clerical and administrative functions related to insurance claims, compliance, and reimbursement. The program also includes background information on the medical disease processes, medical terminology, medical ethics, and legal aspects of the medical record.
This two-semester program requires no documented education or experience beyond a high school diploma or GED. Individuals with a high school diploma or its equivalent are welcome to enroll in this training program.
Certification Examination
All topics explored in the Medical Billing program prepare learners for the Certified Billing and Coding (CBCS) certification examination offered through the National Healthcareer Association (NHA).
The following costs are included in the certificate price for the Medical Billing program:
• Certified Billing and Coding (CBCS) certification exam offered through the NHA
• Certified Billing and Coding (CBCS) certification exam review
• Required E-texts
• Lab fees
This program provides an experiential learning experience in a web-based platform with simulated medical records and offered 100% online. All courses in this training program are currently offered in the Health Services Administration - Medical Insurance, Billing, and Coding AAS degree program.
Semester 1 Courses:
HEA2200 - Medical Terminology (15-weeks | 3 credits)
HEA2255 - Electronic Health Records (15 weeks 3 credits)
Semester 2 Courses:
MBC1105 - Medical Coding (15 weeks 4 credits)
MBC2211 - Medical Billing and Reimbursement Methods (15 weeks 3 credits)
Certified Billing and Coding Specialist (CBCS-NHA) Certification Exam Review
& Exam Fee (noncredit course)
Credit hours from the completed program may be applied toward credits for a degree program offered.
IMPORTANT NOTICE: Students in the Continuing Education programs and courses are not eligible for Berkeley College grants, scholarships, financial aid, VA benefits, or career assistance.