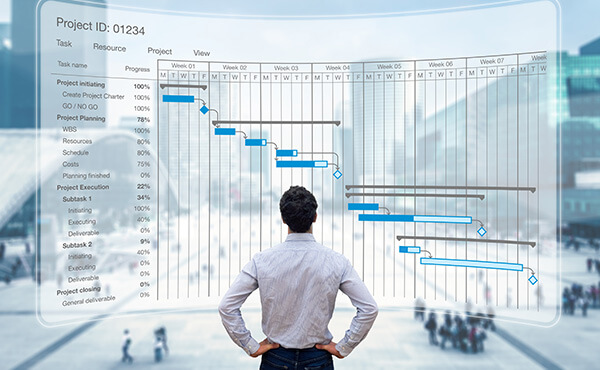 The Project Management Certificate provides essential knowledge and skills in the growing field of project management. The Project Management Certificate presents foundational and applied knowledge in the initiation, execution, and management principles applicable to the core knowledge areas for practicing project managers today.
In today's evolving business and technical marketplace, projects increasingly drive corporate strategic plans and technological innovation.
This certificate includes four courses starting with an introductory course in project management that establishes the building block of any program in project management. That course is followed by the study of the human resources management factors in the practice of project management. The progression follows with an advanced project management course that provides an in-depth study and application of qualitative and quantitative methods used in the management of very large and complex projects. Finally, the program ends with a specialized course in project risk management.
Completion of the Project Management Certificate serves as a preparation for and meets the 35-hour classroom requirement for the Certified Associate in Project Management (CAPM) certification. The CAPM is PMI's entry level project management certification for individuals who do not have the prerequisite thirty-six to sixty months of experience in leading projects. Completion of the Project Management Certificate courses also meets the PMI Talent Triangle requirements including technical project management, strategic and business management, and leadership skills. The Project Management Certificate also provides the requisite classes of preparation for the Project Management Professional (PMP) Certification examination for persons who meet the multiyear requirements and other requirements as are specified by the PMI. PMI certification exams are not provided by Berkeley College, and their cost is not covered by tuition. Current information, including but not limited to, costs, examinations, and further requirements for certification must be obtained directly from the PMI. The PMI website is www.pmi.org.
The program can be completed in just two semesters by taking two courses (six credits) per semester. The courses in the certificate in the Project Management program can be taken Online or at any New Jersey campus where the courses are offered. Online students will have the option to take one or more of the courses on site.
The 12 credits gained through the Project Management Certificate will count towards certain specific degree programs in the Larry L. Luing School of Business, should participants wish to apply to those programs.
Semester 1
MGT3100 Project Management – An Introduction

MGT3105 Human Side of Project Management
Semester 2
MGT4110 Advanced Project Management

MGT4115 Project Risk Management
IMPORTANT NOTICE: Students in the Continuing Education programs and courses are not eligible for Berkeley College grants, scholarships, financial aid, VA benefits, or career assistance.