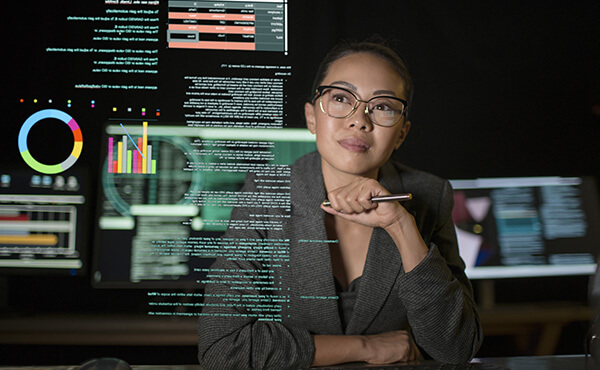 Berkeley College's Business Analytics Certificate introduces students to the rapidly growing field of business analytics and data-informed decision making. Students will learn how analysts describe, predict, and inform business decisions in the specific areas of business and technology, marketing, finance, and operations.
Students will develop skills in managing IT projects and cloud computing and will also learn to solve business problems using analytics software, as well as understand, design, and utilize analytical models. This certificate combines practical technology, applications, and processes to provide valuable insights into analytical decision making. Hands-on experience will be provided in the use of analytics tools and software that will assist students in making strategic business decisions based on data.
The program can be completed in just two semesters by taking two courses (six credits) per semester. The courses in the certificate in the Business Analytics program can be taken Online or at any New Jersey campus where the courses are offered. Online students will have the option to take one or more of the courses on site.
The 12 credits gained through the Business Analytics Certificate will count towards certain specific degree programs in the Larry L. Luing School of Business, should participants wish to apply to those programs.
Semester 1
BUS2210 Business Intelligence and Analytics

ITM2260 IT Project Management
Semester 2
ITM3313 Cloud Computing

BUS4420 Data Mining for Business Analytics
IMPORTANT NOTICE: Students in the Continuing Education programs and courses are not eligible for Berkeley College grants, scholarships, financial aid, VA benefits, or career assistance.