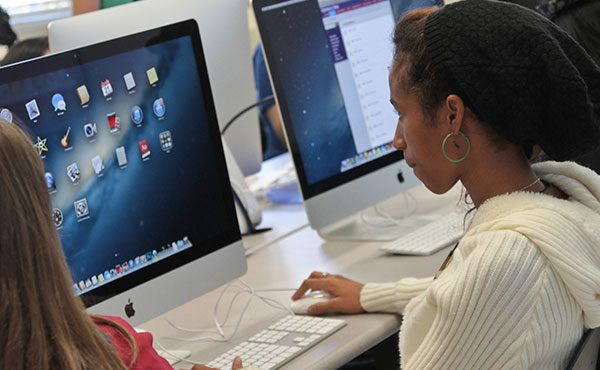 Expand your talents and your opportunities
A love for design can help you begin—or advance—a career in Graphic Design. You will explore the many different areas of this exciting field as you work on projects that will help you develop the skills that today's employers are searching for.
The Graphic Design Certificate program is a great way for beginners to learn the foundations of graphic design and for working professionals to continue developing their skills. You'll learn how to communicate messages through typography, layout, image, and color using industry-standard software for print and multimedia design, including the Adobe Suite. You'll also benefit from professors with professional design experience.
The 12 credits gained in the Graphic Design Certificate program will count towards the B.F.A. in Graphic Design program should a student wish to seek admission for this program following the successful completion of the certificate program.
The Graphic Design Certificate program can be completed online in two semesters, taking two 15-week online courses (six credits) each semester.
Individuals with a high school diploma or its equivalent are welcome to enroll in this certificate program.
PLEASE NOTE: Semester 1 courses must be taken before Semester II Courses.
Semester 1 courses will be offered in Fall 2023. If you have questions, please email: ContinuingED@berkeleycollege.edu.
Semester 1
GRD1100 Graphic Design Principles I (3 Credits)
GRD1190 Typography 1 (3 Credits)
Semester 2
GRD2200 Graphic Design Principles II (3 Credits)
GRD2240 Digital Publishing (3 Credits)
All Graphic Design students have access to a virtual lab called Apporto that contains all of the software that you need to complete your program. You can access Apporto from almost any computer capable of running the latest Chrome browser with a high network speed connection. More information can be found on the Apporto page.
IMPORTANT NOTICE: Students in the Continuing Education programs and courses are not eligible for Berkeley College grants, scholarships, financial aid, VA benefits, or career assistance.